Moving forward Together and Creating the Future- 2022 Hisense HVAC Global Partner Conference Successfully Held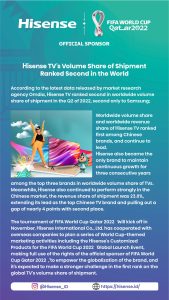 In order to enhance the cooperation and stickiness between Hisense HVAC business and overseas customers and improve the overseas sales scale of HVAC business, Hisense HVAC successfully held the first Global Partner Conference on September 8, 2022. The Conference was held both online and offline, realizing the global linkage between Hisense HVAC team and overseas customers. Through the online conference platform, the headquarters presented the contents of the Conference in real time. Overseas branches set up sub-venues in more than 10 cities around the world, including Milan (Europe), Mexico City (America), Dubai (Middle East and Africa), Vietnam, Philippines, etc. More than 1,200 professional customers from more than 80 countries were invited to attend the Conference.
Alex Zhu, the Vice President of Hisense Group and General Manager of Hisense International, Fei Licheng, the Vice President of Hisense Home Appliances and President of Hisense, Hitachi, and other company leaders attended the Conference and delivered keynote speeches respectively. Mr. Zhu comprehensively introduced the brand development and global strategies of Hisense, the layout and marketing strategies of HVAC business, etc. to overseas customers, and called for "Moving forward Together and Creating the Future" with global customers.
Hisense has been engaged in overseas business since 1985 and made steady improvements over the past 30 years. By 2021, the Group's annual revenue amounted to RMB 175.5 billion, of which the overall overseas revenue was RMB 72.5 billion, and the proportion of independent brands exceeded 80%. At the same time, Hisense has also made continuous efforts in overseas brand promotion. In recent years, it has successively sponsored the world's top sports events such as the 2016 UEFA EURO, 2018 World Cup, 2020 UEFA EURO and 2022 World Cup, promoting the global development of Hisense brand. In the Global Survey Report on China's National Image released by the China Foreign Languages Publishing Administration, Hisense has become the top 10 Chinese brand most familiar to overseas people for six consecutive years.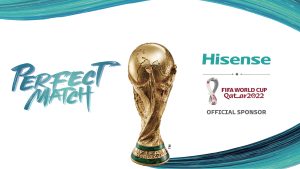 The HVAC business is one of the core businesses of Hisense Group. In recent years, the overseas market has also rapidly developed with broad prospects. Fei Licheng, the Vice President of Hisense Home Appliances and General Manager of Hisensehitachi, introduced to customers the market development strategies of Hisense HVAC global business in the future. Hisense HVAC has always adhered to the "market-oriented and customer-centered" business strategy, has met customers' demand for comfortable air with high-quality products, gained the trust of global customers, and achieved its own rapid development. With the support and assistance of global partners, Hisense HVAC has overcome the adverse impact of the COVID-19 pandemic and achieved a year-on-year growth of overseas business for three consecutive years. Especially in the first eight months of 2022, Hisense HVAC's overall overseas business has achieved a significant year-on-year growth of more than 35%, of which RAC and PAC products have increased by 30%, VRF increased by more than 60%, and ATW products doubled. In the future, Hisense HVAC will continuously adhere to and build customer-centered brands, products and marketing strategies, accelerate intelligent manufacturing and green manufacturing, continuously launch green and energy-saving products, establish a professional and comprehensive brand image in the HVAC field, and create social value and achieve win-win results with customers by focusing on key markets, advantageous products and high-quality customers, and serving global consumers with high-quality products and solutions.
Facing the complex and diverse global application environment and user demand, Hisense HVAC is committed to developing all categories of air conditioners and providing customers with one-stop solutions. Deng Yuping, the Director of Global Product Management Department of Hisense HVAC, introduced the product development planning of Hisense HVAC to customers in detail in terms of 8 major technologies and products, including pre-research technology, residential air conditioner, heat pump, multi-split air conditioner, chiller and intelligent control. From 2022 to 2024, Hisense HVAC will successively launch a variety of new products such as R32 refrigerant side flow mini VRF and top flow VRF, PEDF photovoltaic air conditioner, efficient magnetic suspension centrifuge, all categories of ATW heat pumps, EasyPure fresh air conditioner, self-cleaning wall-mounted air conditioner, etc. At the same time, it will continuously develop and upgrade intelligent control products and systems such as Hi-mit, Hi-dom and Connect Life for the intelligent control and remote control needs of commercial and household applications. In addition, Hisense HVAC will also redefine the brand and product identity, upgrade the appearance of the whole series of products, pay more attention to the perfect harmony between products and the environment, and symbolize people's love for life and happy life attitude in Hisense products, forming spiritual resonance between products and users' lives.
Regarding the future of Hisense HVAC, Mr. Fei finally stated that at any time, the market always faces risks and opportunities, and the market opportunities always service the prepared mind, so we will insist on making full preparations for the future through own competitiveness improvement. Hisense HVAC will insist on working with customers throughout the sales cycle of brand promotion, supply chain guarantee, professional technical support, systematic training and installation services to help partners succeed. There is an old saying in China that "Success comes to those who share in one purpose, and belongs to those who work together". In the future, Hisense HVAC team will definitely create more brilliant achievements through closer cooperation with partners for win-win future.